How to Fix the cloudy yellow water of my fish tank? ---Maybe protein cotton isn't the best choice!
If you regard time as treasures,the top three picks are made for you .
Masterbatch is undoubtedly the best choice if you don't want to affect the water quality of the fish tank and are willing to invest in your pet.
If you feel that pH fluctuations have little effect on fish, and you want to effectively and long-term solve the problem of yellow water without continuously investing money, you can choose protein cotton, volcanic mud, or both.
If you don't want to affect the water quality of the fish tank, and the water is not particularly yellow, you can put a few packets of  activited carbon in the water for increasing the filter media and removing the invisible harmful substances in the water body.
If you're science master in aquarists,please enjoy yourself.
Most fish keepers hope that the fish tank water is crystal clean like the fresh air you breathe except aquarium landscape of South American style and keeping fish in green water, etc. But the water still turns yellow without South American Decor, which could be the reason of feeding fish food, placing dead-wood or azalea root decoration. The article aims to examine the popular methods of changing yellow water are resultful or not. In fact, all is based on water quality. Besides, we will test a rare method of which many keep fishers aren't aware. Materials are as follows: protein cotton, activated carbon, volcanic mud, and color masterbatch pieces. Let's explore the big project together!
Protein cotton
Protein cotton whose main component is macroporous adsorption resin is a kind of popular material to clean yellow water. It is widely used in the area of industry, medicine, and wastewater treatment. And the price is extra-economic. However, when it is introduced to the aquarium industry to wear advertisement which can catch people's eyes,a pack of protein cotton of 200g increases to 30 yuan or more.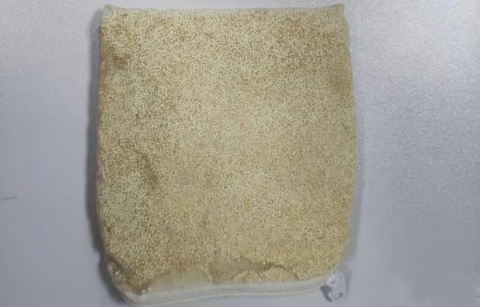 Used protein cotton
According to the experience result, the yellow water cleanability of protein cotton is very excellent. It takes almost 5 hours that the water's color turns from yellow to transparent, which is close to the original pure tap water. But it is worth noting that, through the pH values contrast based on the pre-experiment, we can find that the protein cotton has the obvious acid-drop phenomenon that the pH value has decreased by 1 ~ 1.5.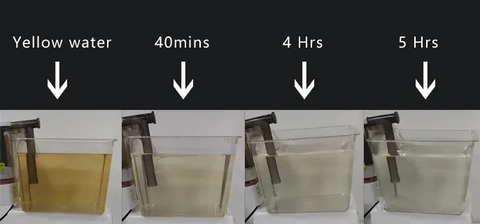 Therefore, if you keep fish that are sensitive to changes in water quality, you'd better use them with caution. In addition, some goldfish fans also comment that the protein cotton generally makes the water soft. So it is not recommended to treat yellow water with this method for fish like Sanhu cichlids,ect. However, the protein cotton has a high value of repeatability, which could be soaked in salt water for one night before it can be used again. In a word, it is an economic and effective way to solve the problem of yellow water.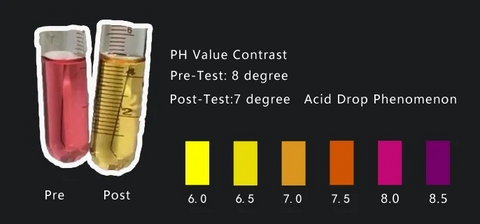 Activated Carbon Pads
Generally speaking, we often use activated carbon to remove formaldehyde and other harmful odors in the new house decoration, which is the reason that activated carbon has the function of adsorption and decontamination. How about it in fish tank filtration? Compared to the protein cotton, activated carbon is troublesome before use that you need to rinse with water repeatedly to remove black powder to avoid water pollution.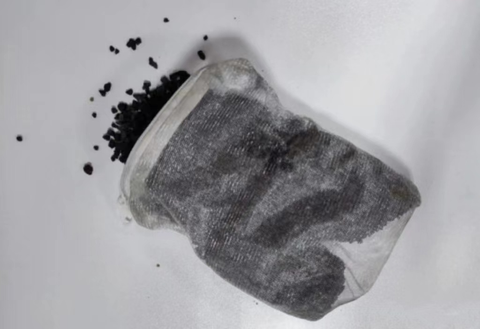 After 23 hours of tracking, we note that even for a small cylinder, a pack of activated carbon about 300g is hardly effective in dealing with yellow water and we can clearly see that there is carbon powder deposition at the bottom of the cylinder. It is possible that activated carbon could help absorb some of the invisible harmful substances in the water, but it is useless in solving the yellow water problem.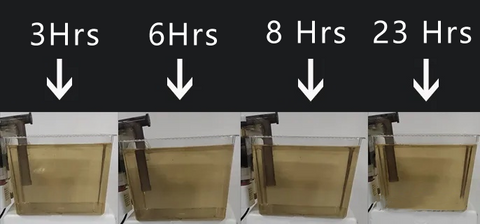 Since the results is steady of the pH value on pre-use and post-use of activated carbon , it can be proved that activated carbon has no effect on pH.Besides,activated carbon is more sustainable that it is put in a filter box for a year without any attention. So whether or not, it won't have any side effects with putting a pack.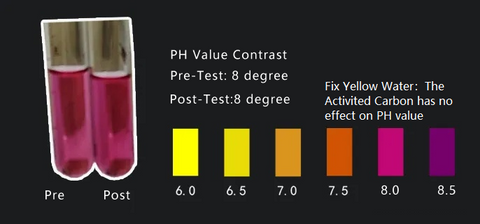 Volcanic mud
In my eyes, volcanic mud has always been used for beauty and whitening. If this dark brown thing is the same substance that people put on the face, then I believe that it does have a certain absorption of yellow water up to water purification. The cost of volcanic mud is between protein cotton and charcoal. The volcanic mud cannot be washed off in seconds under the faucet like protein cotton, nor does it require repeated soaking like charcoal. The right way is to rinse off the excess powder in about a few minutes.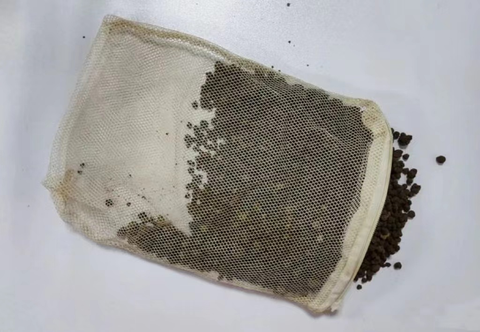 From the actual measurement results, the effect of volcanic mud is close to that of protein cotton: the work of removing yellow water is completed in 6 hours, but the final water color is still slightly yellow, which means that there is no way to completely turn it into a transparent state like air environment. If given some time, the effect would be better.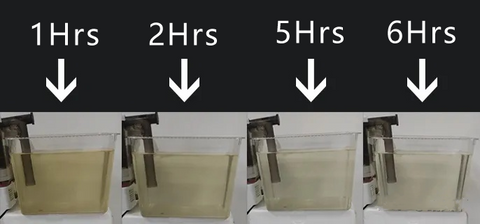 In the influence of water pH value, volcanic mud is slightly better than protein cotton, which is about 0.5~1 degrees lower. The influence and effect of volcanic mud on removing yellow water are not particularly obvious. But fortunately, its sustainable use value is relatively high, and it can be placed for 1 to 2 years in the filter box. It is recommended that you keep it on hand to solve the problem of yellow water caused by daily feeding.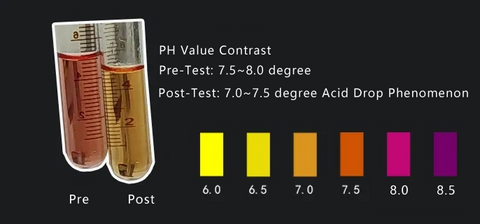 Color masterbatch pieces
For many aquarists, the color masterbatch pieces may be unfamiliar. It is a fiber sheet with nano-honeycomb mesh. Therefore, it can absorb dirt and impurities and is generally used to prevent the problem of cross-staining caused by fading of clothes during machine washing. The most important thing is that it has a great effect on removing yellow water when used in the fish tank. Although only a few people know about this material, I believe it will have the same effect as protein cotton.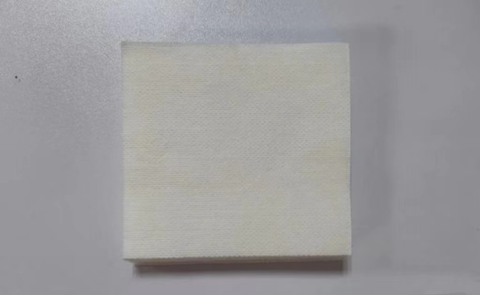 During the process of experience, I used a large box of about 30 color masterbatch pieces. After 33 minutes' observation, the original yellow fish tank water has become pure and transparent. After that, when I took out the masterbatches in the filter box, I could see that most of the masterbatches were not completely dyed and could still be used.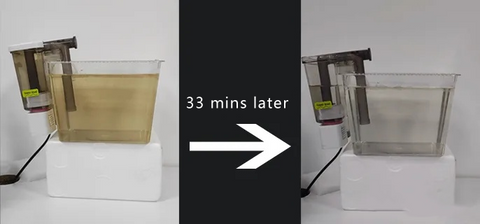 Taking the water sample, we found that the pH value of the pre-experiment and the post is the same, which can prove that the color masterbatch has little effect on the pH value of the water and does not cause damage to the fish. However, its disadvantage is that it cannot be used repeatedly and continuously: if you want to remove the yellow water caused by daily feeding, you can choose placing more tablets. However, if it is to remove the yellow water caused by the initial sinking wood, then it is necessary to replace the color masterbatch regularly. Overall, this is slightly better than the protein cotton that needs to be taken out and soaked in salt water, but it is slightly more expensive.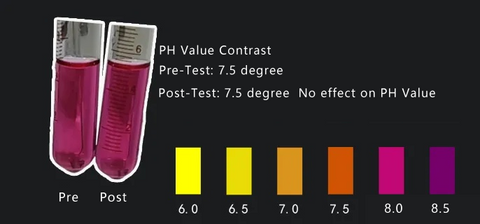 Come to the conclusion(HARVEST)
1st:Efficacy of removing yellow water: Protein Cotton = Color Masterbatch > Volcanic Mud >Charcoal   2. PH value: Protein cotton > Volcanic mud > Charcoal= Color masterbatch 3. Sustainable use value: protein cotton = volcanic mud = activated carbon > color masterbatch Sheet 4. Cost of use:Charcoal > volcanic mud > protein cotton >color masterbatch 5. Maintenance cost:Charcoal  = volcanic mud ≥ masterbatch > protein cotton (the order is based on the increase of the effect to the decrease)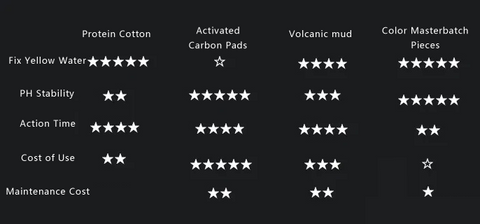 2nd: Masterbatch is undoubtedly the best choice if you don't want to affect the water quality of the fish tank and are willing to invest in your pet. If you feel that pH fluctuations have little effect on fish, and you want to effectively and long-term solve the problem of yellow water without continuously investing money, you can choose protein cotton, volcanic mud, or both. If you don't want to affect the water quality of the fish tank, and the water is not particularly yellow, you can put a few packets of  activited carbon in the water for increasing the filter media and removing the invisible harmful substances in the water body.(Nice to see you again,jajajaja.Do you get it now?)
Follow us and get more articles about Frequently Asked Questions!
                                                                    Your  Friend -Tararium