If you need to order the old packing with only 1 bulb, pls contact with Customer Survice.

【Passed by EPA】EPA EST NO.: 96998-CHN-1
【Powerful UV Germicidal Light】
UV intensity is 630 μW/cm2, at the distance of 10inch, as shown on the picture.
【Without Ozone Smell】
253.7nm wavelength UV-C ray, strong clean ability.
【Certificates】RoHS,CE and UL report. Click here to learn more.
【High Temperature Resistance】As the ballast is separate from the bulb.

【Direct Indicator Light】Block the damage from UVC light, can directly observe the working status of UVC lamp.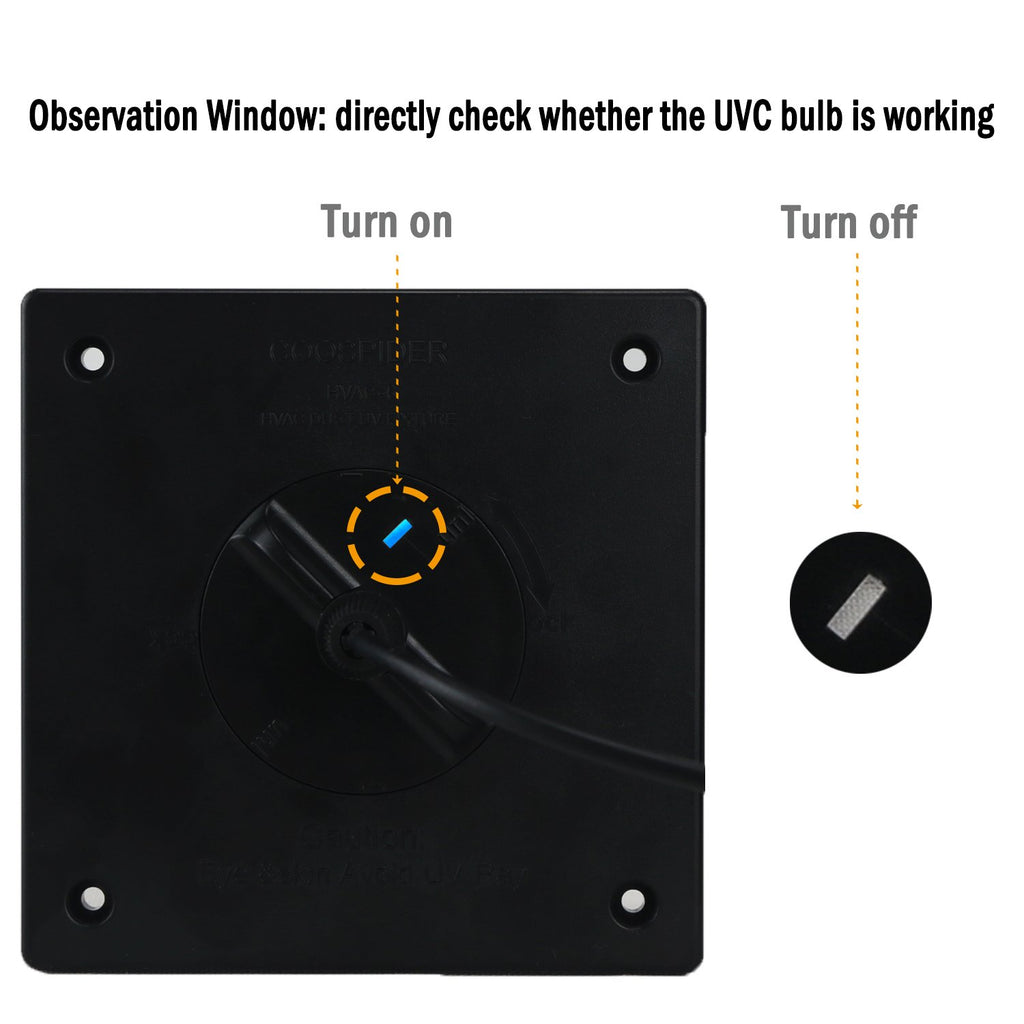 【Easy To Replace】The bulb and base are designed separately, can directly replace the bulb without the trouble of removing the entire base.

Click here to order the extra replacement bulb.
【Convenient Installation】Just cut one 2.3inch hole in duct, align the base board with the hole and fixed by the self-drilling screws (included in box), then install the bulb and plug in.
【100% satisfaction & money-back guarantee】
【 Warm Tips 】
1. Because the UV-C ray will hurt eyes and skin, so please don't look at the working bulb.
2. People/pet/plant can't be exposed to the UVC light.
【1 YEAR WARRANTY 】Committed to providing the best service, if you have any question, please contact Customer Service, we will reply within 24 hours(excluding Sunday and holiday).

Installation easy, but it will take a few month to see the reaction on the A/C coil
Ask again in 4 months. Time will tell.
The installation was easy and the satisfaction of seeing positive results on mold that had started to grow and is now eliminated is a testament to their effectiveness.
Easy installation, seems to be working fine
Great UVC Lamp for DIY Project
The lamp assembly is very easy to install and the design makes it really easy to remove the lamp for cleaning or replacement. The included ballast and power cord simplified the integration of the lamps to the controller that I built to connect to my HVAC controls.
HVAC UV-C lamp tube, AC duct for the entire house, UV bulb, including ballast plug 110V 18W New Version (CTUV-D18)