In stock(US)
Watt: 36W
Voltage: 120V
Wavelength: 185nm bulb
Usage area: 600sq.ft
UVC Bulb with Ozone

【Excellent heat dissipation】Self-contained vent.
【Strong UV intensity】1329 μW/cm2 at the distance of 10inch, as shown on the picture.
【Larger use area】 Covers up to 600sq.ft. suitable for basement, bathroom, home, salon, closet, hotel, UV cleaner.
【Convenient use】 Can work direct in most common E26/E27 screw-in socket, no special connections required.
【FCC Certified】Click here to find the FCC certificate.
【UL Test Report】Click here to find the UL test report.

【 99.99% sterilization rate 】Click here to find test report.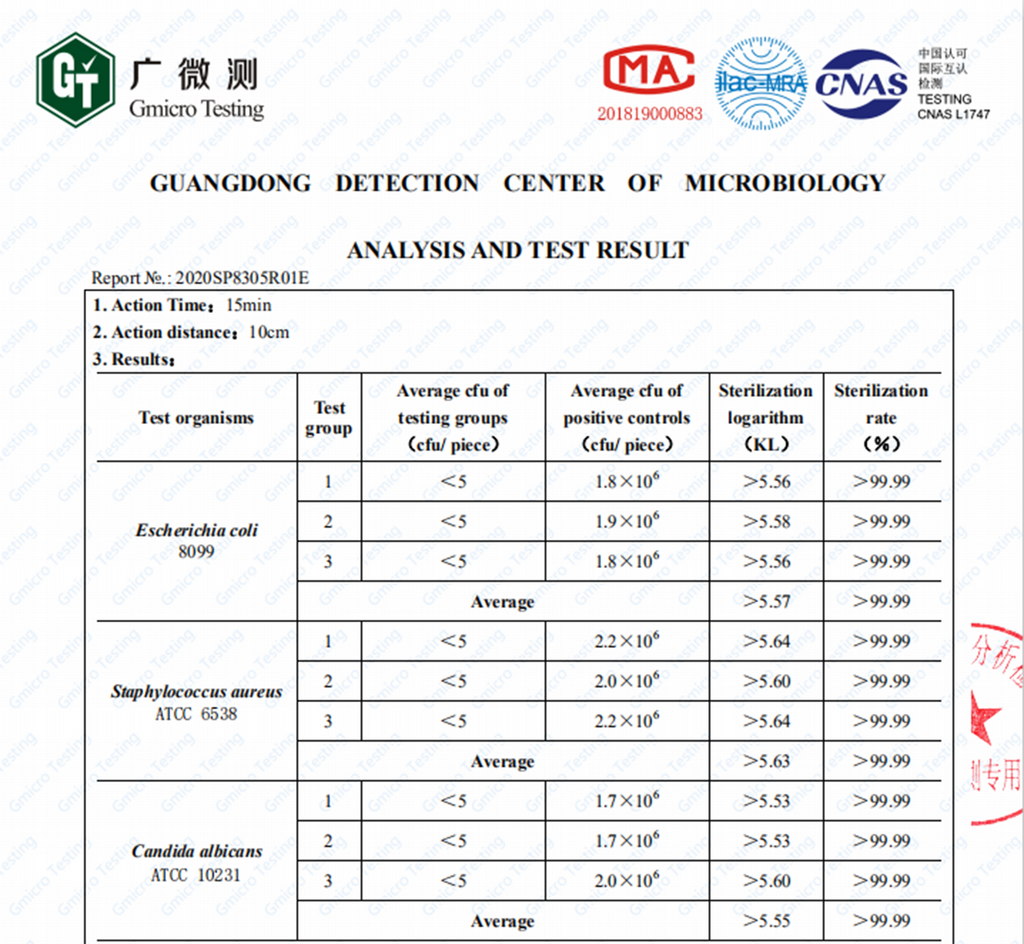 【UVC with Ozone】 185nm wavelength UV-C light, ozone has a more powerful function than UVC, can move to everywhere, especially good at remove bad smell.
【What is Ozone ?】 Ozone itself has a unbearable smell, but it has a half-life of half an hour, so after turn off this lamp, must keep room ventilated for at least 1 hour, or wait for a long time (6-12hours), untill no ozone can be smelt.

(Ozone has a half-life of half an hour. Under normal circumstances, it will decomposes itself into oxygen within 30-90 minutes,
but its decomposition rate is also affected by ventilation and temperature. The enclosed environment, the lower the temperature,
the slower the decomposition speed. If it is in a completely enclosed room or at low temperatures, it may take several hours to fully decompose.)


Cautions when using this UV-C lamp:
U-V ray will hurt eyes and skin, please don't look at the working bulb.

People/pets/plants must leave the room when the bulb is working.

Liquids such as perfumes and wines should be kept away from the UV light, as the powerful U-V rays may cause chemical metamorphism.

Don't put brightly colored clothes toys under the light, as the strong oxidation of U-V ray may cause slight fading.

If there are unmovable fish tanks or plants/painting in the room, you can cover them with a non-transparent newspaper or cloth to avoid the UVC rays.

Keep the bulb out of the reach of children.

After turning off the UVC Ozone lamp, must keep the room ventilated for at least 3-6 hours until there is no ozone smell.

【1 YEAR WARRANTY 】Committed to providing the best service, if you have any question, please contact Customer Support, we will reply within 24 hours(excluding Sunday and holiday).

Excellent
Amazing product. Cleans deep.
excellent device!
great product that got rid of musty bildup in car after a moonroof leak
Lasted way longer than predicted!!!
Mine lasted way longer than predicted. I left it on 24 hours a day in my basement and lasted almost a year. It helped control mold. I have a large basement so will be buying two of them to use on both ends!!
Bulb works very well
The bulb we purchased is working very well, no problems whatsoever. It arrived well packed and has been very useful.