Regular price
$57.34
Sale price
$53.34
Unit price
per
Sale
Sold out
In stock(China)
Takes about 10-15 business days from China to the US.
Two bulbs in one package
* Brand Name: coospider

* Average Life (hrs): 8000 Certification: CCC
Features: Compact Fluoresent Light UVC (with Ozone)
ozone Quartz lamp
Voltage: 110V
Wattage: 25W
Rectifier include: compact UV Light Rectifier include, Easy to use.

* Ozone sterilization: 185nm uvc change the Oxygen into Ozone
Compact bulb easy use: any E26 E27 base holder can apply for
Eliminate mites kill mites: Eliminate dog mites Deodorant
Package include: Only lamp,Without holder.

* Function:
1. Kill dust mites for mattress, bed, sofa, blanket, pillow, clothes, towel.
2. Kill bacteria, viruses, germ: such as mould, flu, virus, fungus, canine parvovirus, E.coli, etc.
3. Clean air: Remove the bad odors which in trash can, toilet, kitchen, refrigerator, wardrobe, shoe cabinet, warehouse, etc.
*Sterilization Rate 99.99%. Click here to find the test report.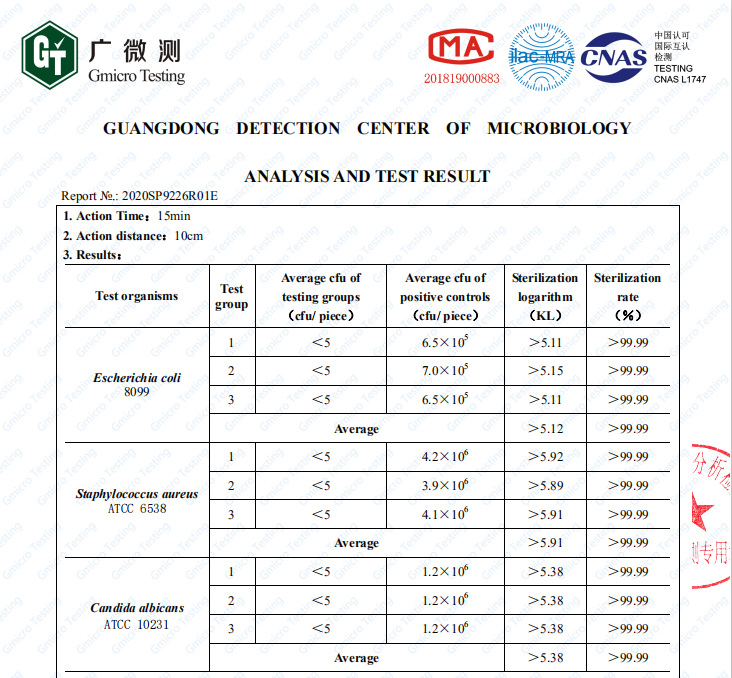 * WARM: Skin, Eyes, Pets Avoid Direct UV Ray Quartz lamp for disinfection.
* How To Use:
- Goods Surface Sterilization: 5 minutes.
(put goods within 1 meter of the light, such as Cups, bottles, toothbrushes, Shaver, cell phone, keyboards, clothes...)
- Small space disinfection: 5 minutes
(Less than 4㎡, such as Shoe cabinet, toy box, wardrobe, dressing room, storage room...)
- Room disinfection: 15-60 minutes
(such as Kitchen, bedroom, drawing room...)

* - Under the same wattage, the lamp with ozone has a more powerful bactericidal function. and Ozone is especially good at removing odor.
  - The ozone has a pungent smell, causing discomfort to the respiratory system, people can't stay with strong ozone. So pls open the door and windows as soon as possible to keep the room ventilated after using the lamp, untill there is no ozone smell.

Cautions when using this UV-C lamp:
U-V ray will hurt eyes and skin, please don't look at the working bulb.

People/pets/plants must leave the room when the lamp is working.

Liquids such as perfumes and wines should be kept away from the UV light, as the powerful U-V rays may cause chemical metamorphism.

Don't put brightly colored clothes toys under the light, as the strong oxidation of U-V ray may cause slight fading.

If there are unmovable fish tanks or plants/painting in the room, you can cover them with a non-transparent newspaper or cloth to avoid the UVC rays.

Keep the lamp out of the reach of children.

After turning off the UVC Ozone lamp, must keep the room ventilated for at least 3-6 hours until there is no ozone smell.
 *Large coverage area

【1 YEAR WARRANTY 】Committed to providing the best service, if you have any question, please contact Customer Support, we will reply within 24 hours(excluding Sunday and holiday).

How to clean up a broken bulb  - Website:epa.gov/cfl
View full details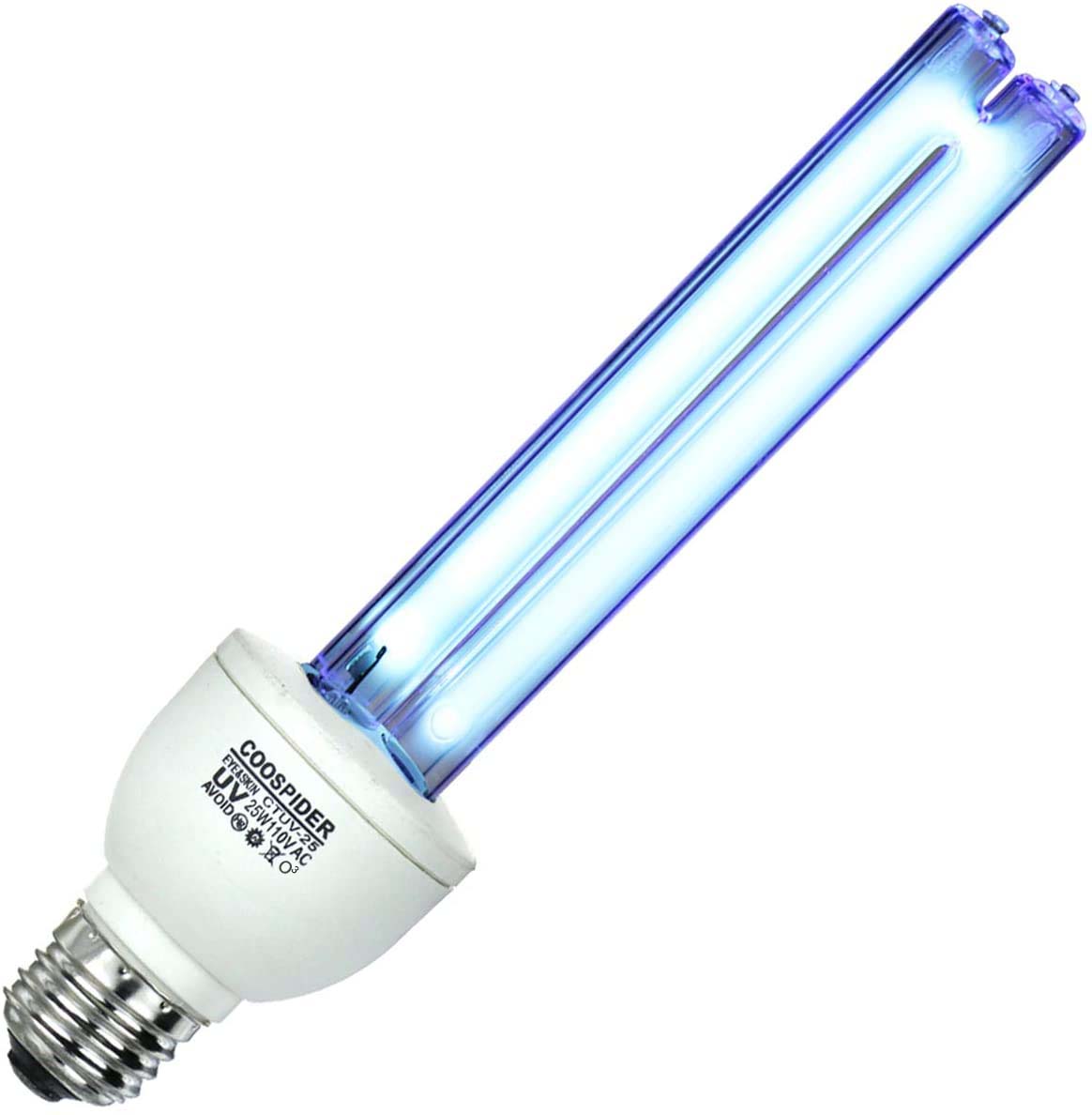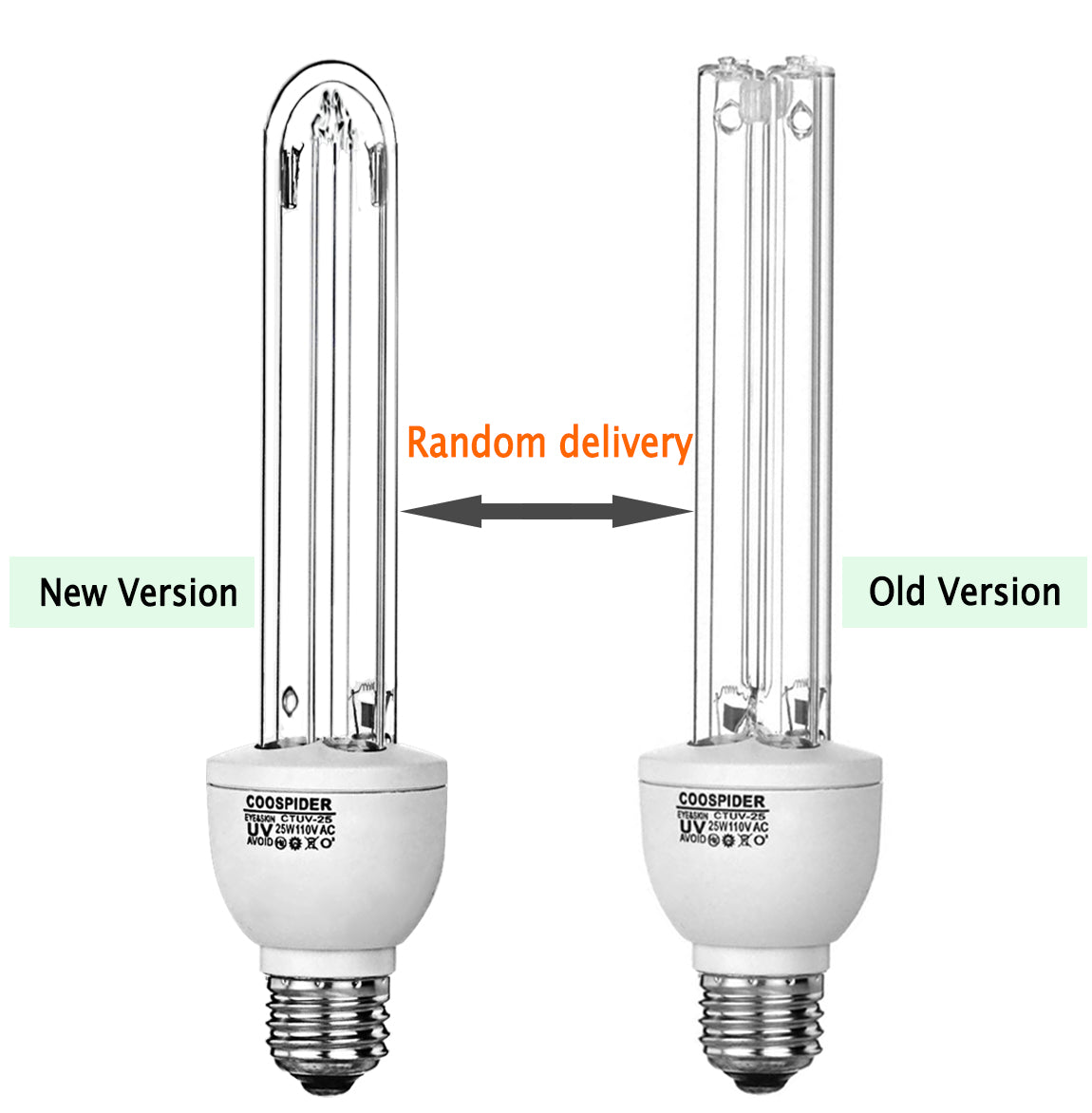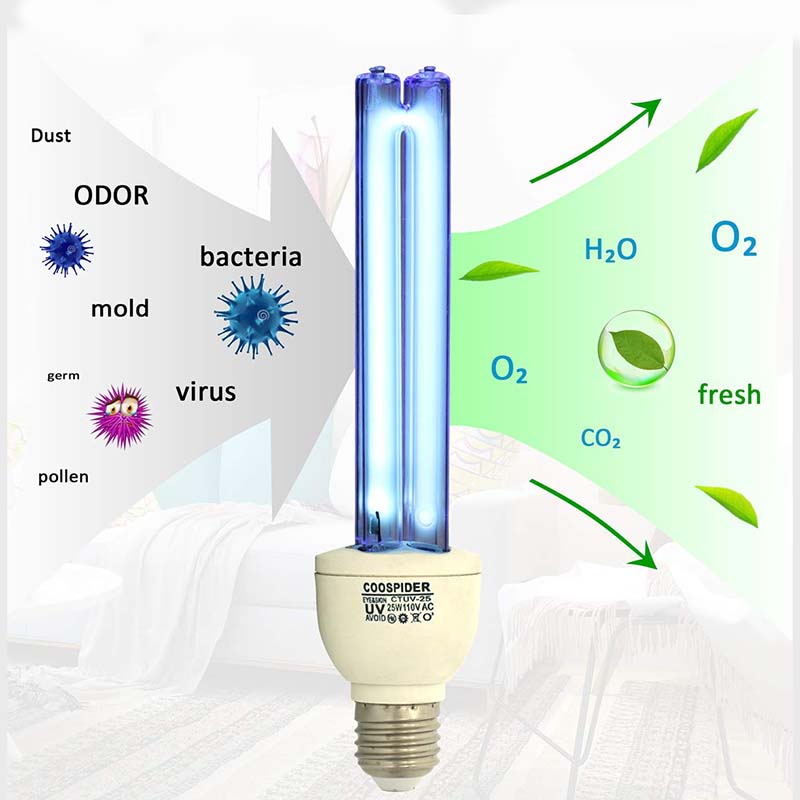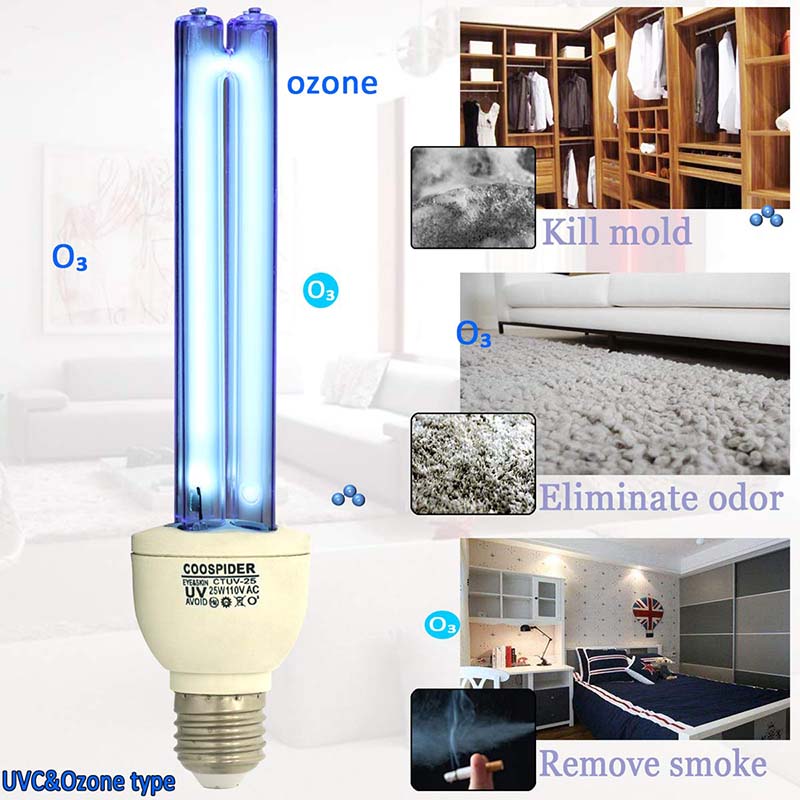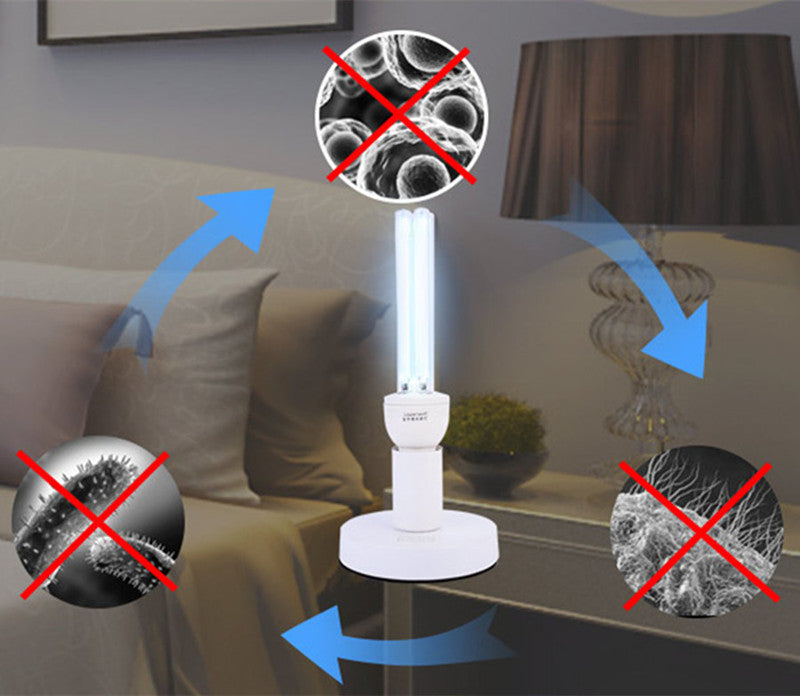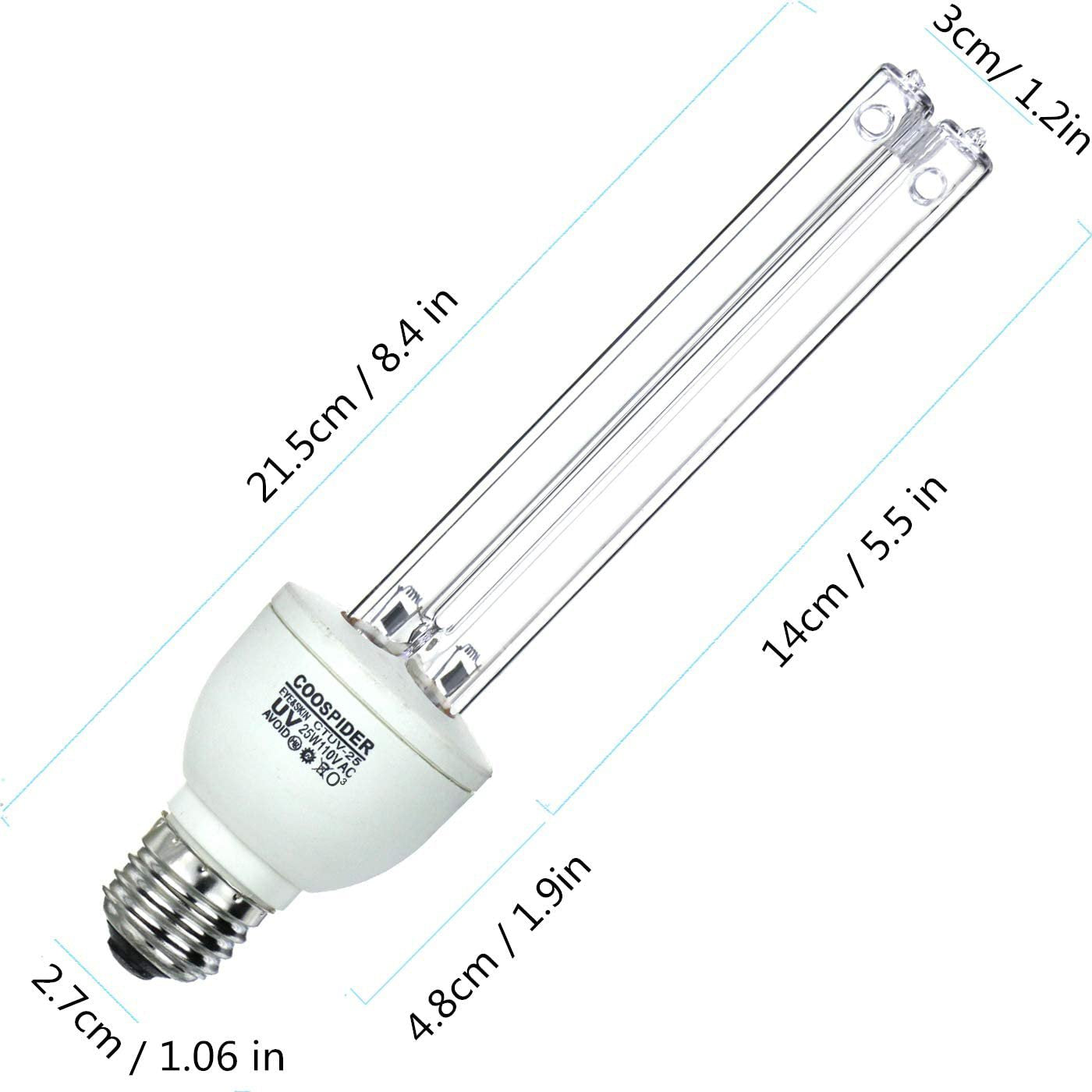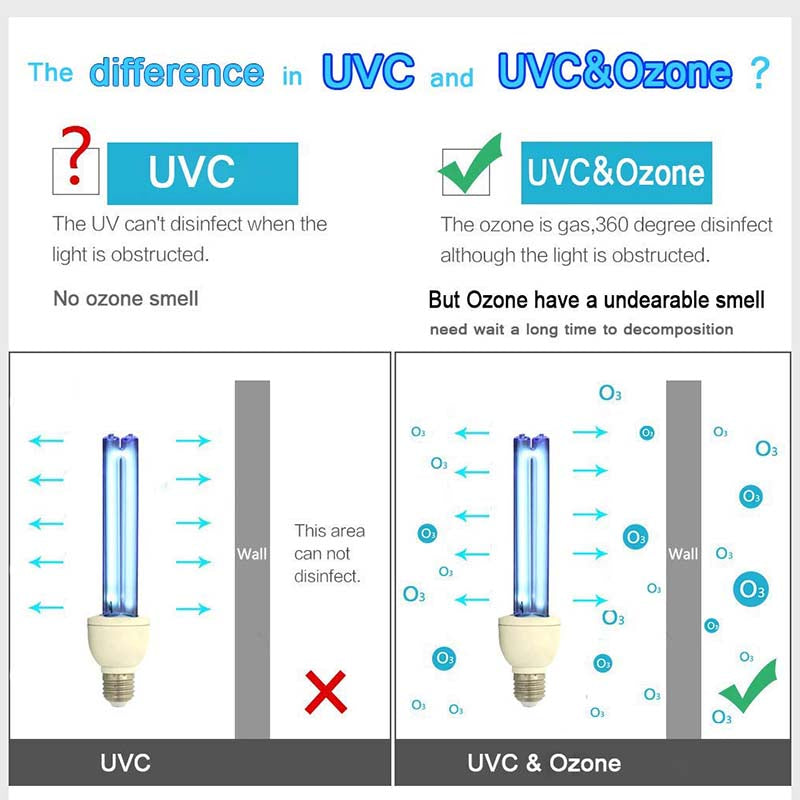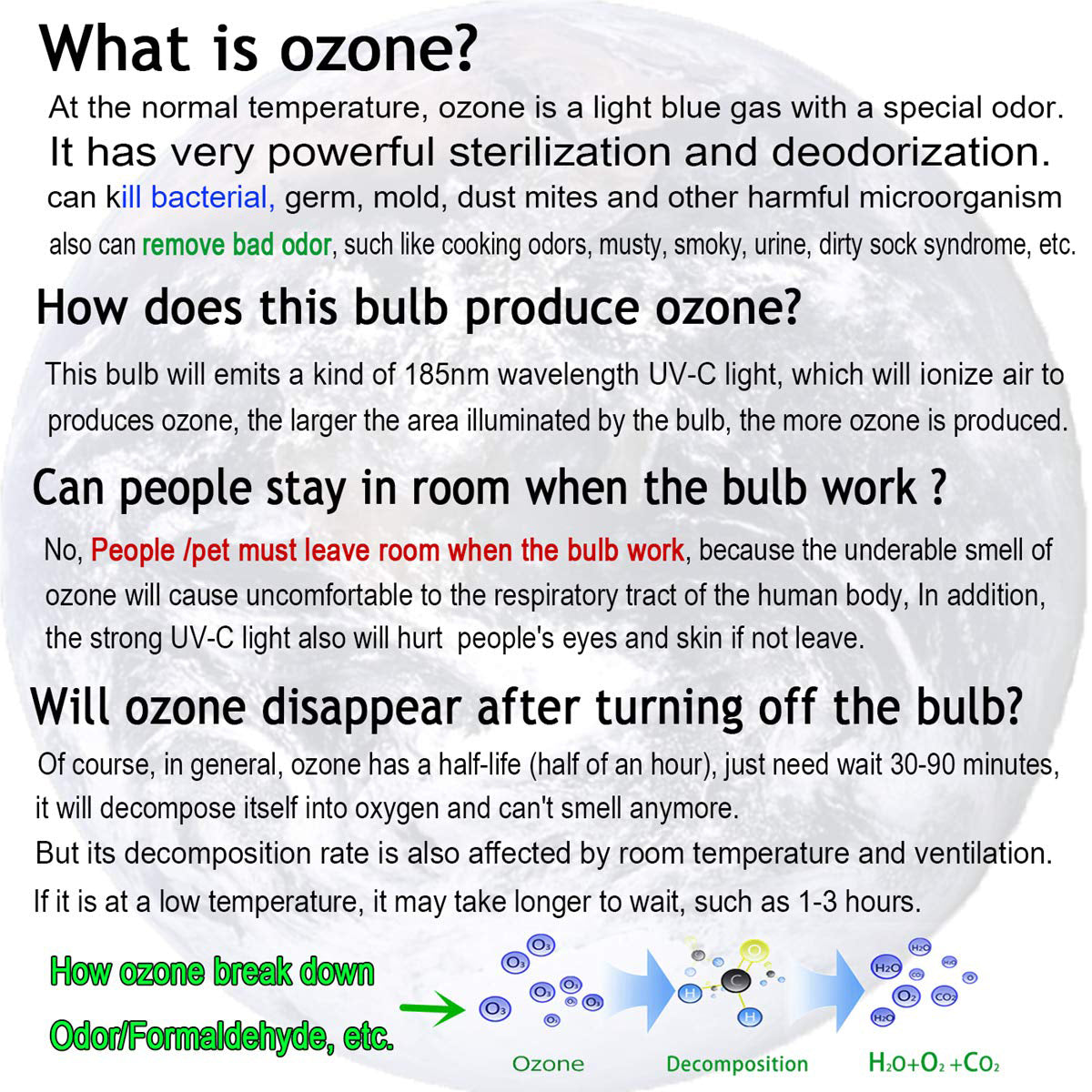 Bulb arrived broken
The initial shipment included a broken bulb. Coospider did not quibble when I informed them. They immediately sent a replacement with no further action required from me. The replacement is operating as it should. Thanks.
I replaced the 25 watt I bought last year, which had broken.
This 25 watt does not seem to have the strong ozone scent as my previous one. Is it working as well?