Brand Name: Coospider

Average Life (hrs): 8000 Certification: CCC
Features: Compact Fluoresent Light UVC (without Ozone)
Voltage: 110V     Wavelength:253.7nm
Rectifier include: compact UV Light Rectifier include, Easy to use
Compact bulb easy use: any E26 E27 base holder can apply for
Eliminate mites kill mites: Eliminate dog mites Deodorant
Package include: Only lamp,Without holder

Strong UV intensity: 810

μW/cm2

at the distance of 10inch, as shown on the picture.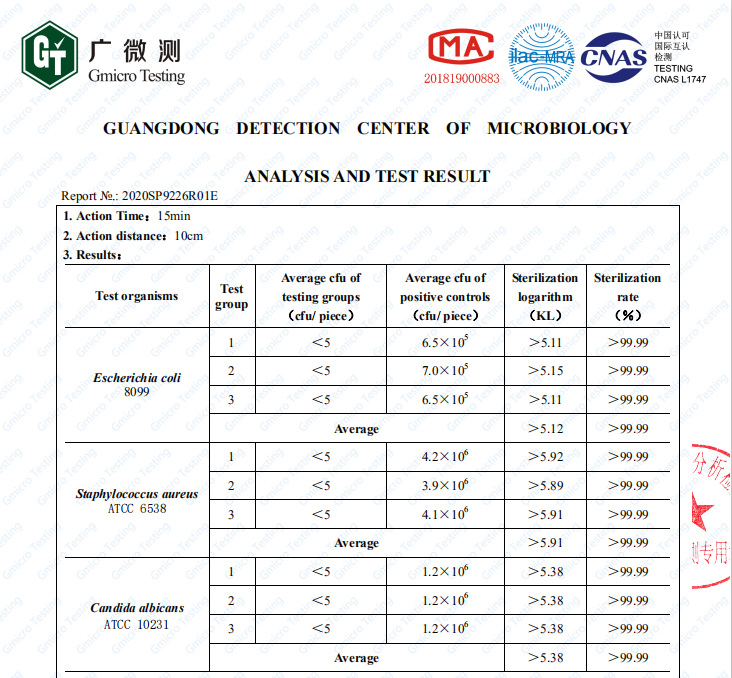 Functions:
1. Kill dust mites for mattress, bed, sofa, blanket, pillow, clothes, towel
2. Kill bacteria, viruses, germ: such as mould, flu, virus, fungus, canine parvovirus, E.coli, etc.
3. Clean air: Remove the bad odors which in trash can, toilet, kitchen, refrigerator, wardrobe, shoe cabinet, warehouse, etc.
【 Warm Tips 】 When this bulb lit, will immediately have a special smell, it means it worked, this special smell comes from burnt harmful smalls by the UVC ray, just like in the summer sun.

Skin, Eyes, Pets Avoid Direct UV Ray Quartz lamp for disinfectio.

* How To Use:
- Goods Surface Sterilization: 5 minutes.
(put goods within 1 meter of the light, such as Cups, bottles, toothbrushes, Shaver, cell phone, keyboards, clothes...)
- Small space disinfection: 5 minutes
(Less than 4㎡, such as Shoe cabinet, toy box, wardrobe, dressing room, storage room...)
- Room disinfection: 15-60 minutes
(such as Kitchen, bedroom, drawing room...)

Large coverage area

【1 YEAR WARRANTY 】Committed to providing the best service, if you have any question, please contact Customer Support, we will reply within 24 hours(excluding Sunday and holiday).



bulb did not last
bought 3 bulbs. One blew after about 40 hours of use. The other 2 are still working. Can't seem to figure out how to report the issue....no phone number that I can find. Hope someone responds to replace the faulty bulb.
Sorry for the defective one. Sometimes, the bulb will be damaged in transit. We will send a new one to you asap.
Quartz UVC 110V 25W E27/E26 Germicidal CFL Bulb
Item well packaged, shipped and arrived fast. This UVC light bulb is one of the best in the market. So far, I have bought 2 and will buy again.