Note:Battery will be sent in separate parcel. Battery model NO. 23A 12V

【 Passed by EPA】EPA EST NO. : 96998-CHN-1
【Strong UV intensity】1574 μW/cm2 at the distance of 10inch, as shown on the picture.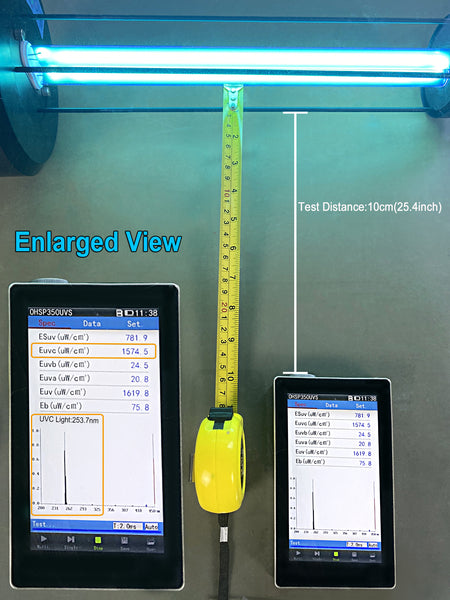 【 UVC with no Ozone smell 】253.7nm UV light, can remove bad smells, kill bacteria, use for the disinfection of bed, sofa, carpet, basement, storage room, etc. no longer feel inexplicably itchy.

【 Easy Installation】As shown on the picture.

【 Warm tips 】When this bulb lit, will immediately have a special quartz smell, which comes from burnt harmful smalls by the UVC ray, just like in the summer sun, it means it worked.
【 200 ft Remote Timer Control 】15/ 30/ 60minutes, different timer modes designed for different needs. Wide range Powerful Remote Control, can received the signal from the behind wall, turn it on or off.
【 Amazing 600 sq. ft. Application Coverage】Suitable for home, hotels, shops, clinics, schools, salon.


Package including:
38W UVC Ozone-free bulb *1

Sturdy lamp base with 6.2 ft cord *1


lampshade *1

two screws (used to fix the lampshade with base)

Remote controller *1
Easy installation: As shown on the last picture of product.
Cautions when use this UV-C lamp:
Because the U-V ray will hurt eyes and skin, so please don't look at the working bulb.

People/pet/plant can't be exposed to the light, must left room when lamp work.

Liquids such as perfumes and wines should not be exposed to the light, as strong U-V rays may cause chemicals to deteriorate.

Don't put brightly colored clothes toys under the light for a long time, because the strong oxidation of U-V ray may cause slight fading

Keep the bulb out of reach of children
【1 YEAR WARRANTY 】Committed to providing the best service, if you have any question, please contact Customer Support, we will reply within 24 hours(excluding Sunday and holiday).