Coospider UVC Ozone-free bulbs
Power: 25W
Voltage: 110V
Wavelength: 253.7nm bulb
Cord length: 4.8 ft
Item packing Dimensions: 9 x 3.5 x 5.7 inches (LxWxH)
【 Strong UV intensity】 810 μW/cm2 at the distance of 10inch, as shown on the picture.
Can kill dust mites / remove musty / eliminate virus flu bacteria, bacterium, fungus, germ, mold etc.
【 Sterilization Rate 99.99% 】Click here to find the test report.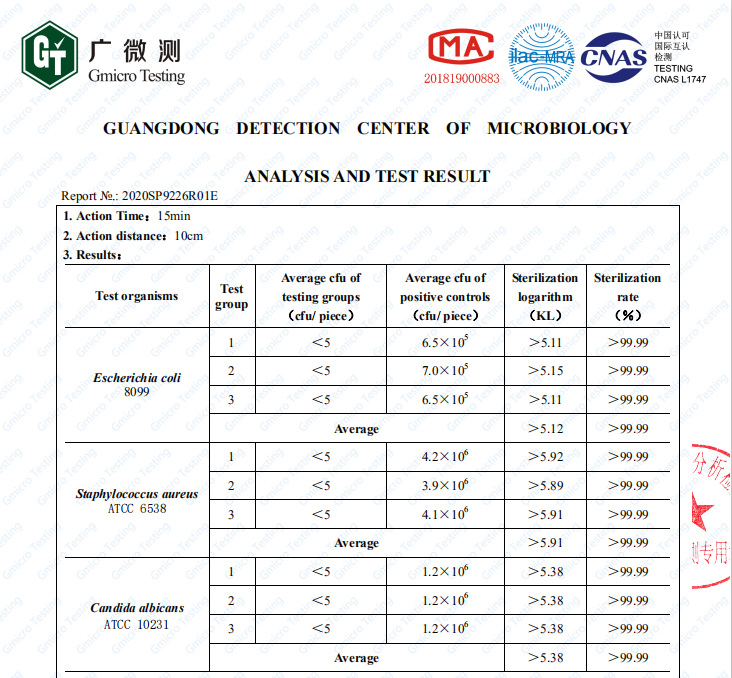 【 Warm Tips 】 When this bulb lit, will immediately have a special smell, it means it worked, this special smell comes from burnt harmful smalls by the UVC ray, just like in the summer sun.

Features:
1. Universal UVC lamp: can be used in bedrooms, quilts, pillows, bath towels, bathrooms, toilets, kitchens, HVAC pipes, etc.
2. Cleaning: Dirty is the main cause of discomfort. It is necessary to use this UVC bulb twice a week.


Instructions:
√ Item surface: (once every 5 minutes). Keep items under 4 feet of light, such as cups, bottles, toothbrushes, shavers, cell phones, keyboards, clothes ...
√ Small space: (5 minutes at a time). ≤50 square feet As a shoe cabinet, drawer, toy box, wardrobe.
√ Small room: (15 minutes at a time). ≤200 square feet such as closet, dog / chicken house, toilet, storage room.
√ Large room: (15-60 minutes at a time). ≤400 square feet kitchen, living room, bedroom ...

Warning when using this bulb:
☞. Don't look at the work bulb.
☞. People / pets / plants must not be exposed to UV light and the light bulb must leave the room while it is working.

【1 YEAR WARRANTY 】Committed to providing the best service, if you have any question, please contact Customer Support, we will reply within 24 hours(excluding Sunday and holiday).
Helpful for my wife's allergy
I used this ozone free UV-C light immediately when I received it. Looks like it's quite helpful for my wife's allergy. I used it everywhere in need of disinfection. I also used it for disinfection of COVID-19 suspected items. It's chemical free. I really like it.