Watt: 36W
Voltage: 120V
Wavelength: 185nm bulb
Usage area: 600sq.ft
UVC Bulb with Ozone

【Excellent heat dissipation】Self-contained vent.
【Strong UV intensity】1329 μW/cm2 at the distance of 10inch, as shown on the picture.
【Larger use area】 Covers up to 600sq.ft. suitable for basement, bathroom, home, salon, closet, hotel, UV cleaner.
【Convenient use】 Can work direct in most common E26/E27 screw-in socket, no special connections required.
【FCC Certified】Click here to find the FCC certificate.
【UL Test Report】Click here to find the UL test report.

【 99.99% sterilization rate 】Click here to find test report.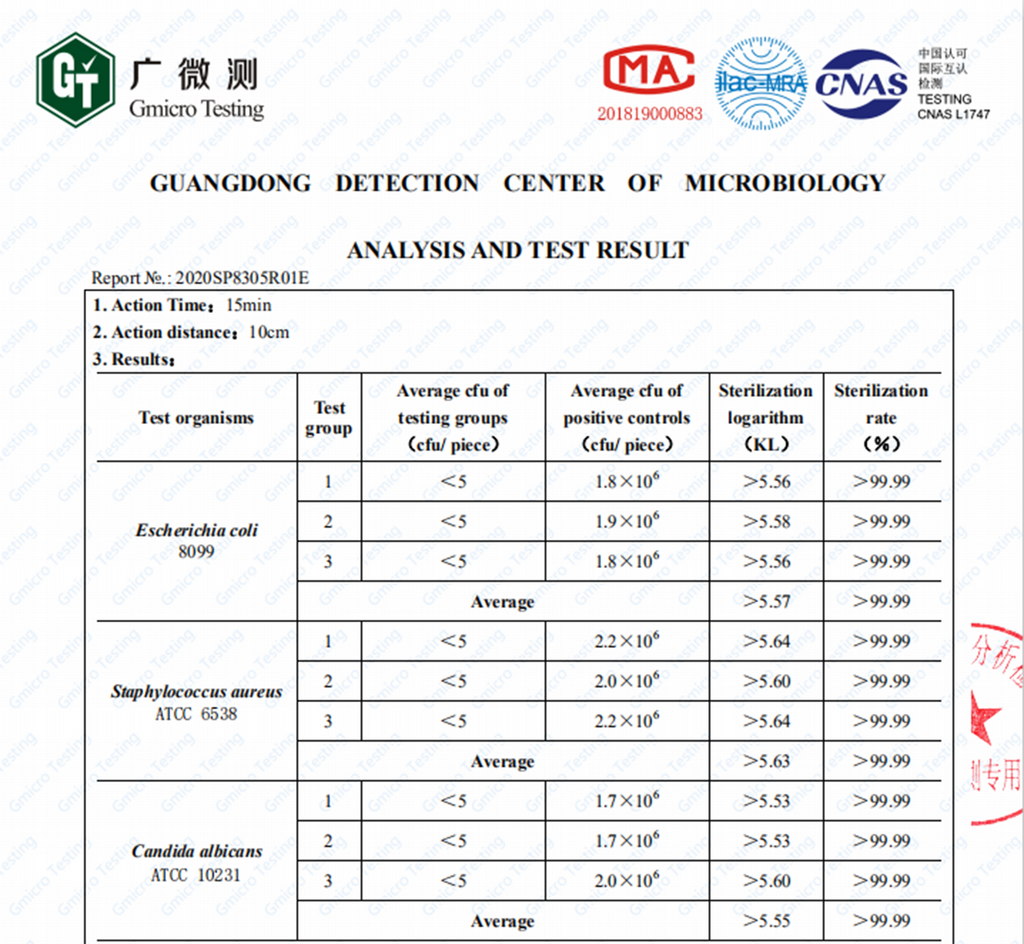 【 Warm Tips 】 When this bulb lit, will immediately have a special smell, it means it worked, this special smell comes from burnt harmful smalls by the UVC ray, just like in the summer sun.

【UVC with Ozone】 185nm wavelength UV-C light, ozone has a more powerful function than UVC, can move to everywhere, especially good at remove bad smell.
【What is Ozone ?】 Ozone itself has a unbearable smell, but it has a half-life of half an hour, so after turn off this lamp, must keep room ventilated for at least 1 hour, or wait for a long time (6-12hours), untill no ozone can be smelt.

(Ozone has a half-life of half an hour. Under normal circumstances, it will decomposes itself into oxygen within 30-90 minutes,
but its decomposition rate is also affected by ventilation and temperature. The enclosed environment, the lower the temperature,
the slower the decomposition speed. If it is in a completely enclosed room or at low temperatures, it may take several hours to fully decompose.)

Warning notice:
1. Because the UV-C ray will hurt eyes and skin, so please don't look at the working bulb.
2. People/pet/plant can't be exposed to the UVC light, must left room when lamp work.
3. After turning off UVC & Ozone bulb, must keep room ventilated at least 1 hour untill no ozone can be smelt.

【1 YEAR WARRANTY 】Committed to providing the best service, if you have any question, please contact Customer Support, we will reply within 24 hours(excluding Sunday and holiday).

Bulb works very well
The bulb we purchased is working very well, no problems whatsoever. It arrived well packed and has been very useful.