Watt: 36W
Voltage: 120V
Wavelength: 253.7nm bulb
Usage area: 600sq.ft
UVC bulb without Ozone

【Strong UV intensity】1302 μW/cm2 at the distance of 10inch, as shown on the picture.
【Excellent heat dissipation】Self-contained vent.

【Larger use area】 Covers up to 600sq.ft. suitable for basement, bathroom, home, salon, closet, hotel, UV cleaner.
【Convenient use】 Can work direct in most common E26/E27 screw-in socket, no special connections required.

【FCC Certified】Click here to find the FCC certificate.

【UL Test Report】Click here to find the UL test report.

【 99.99% sterilization rate 】Click here to find test report.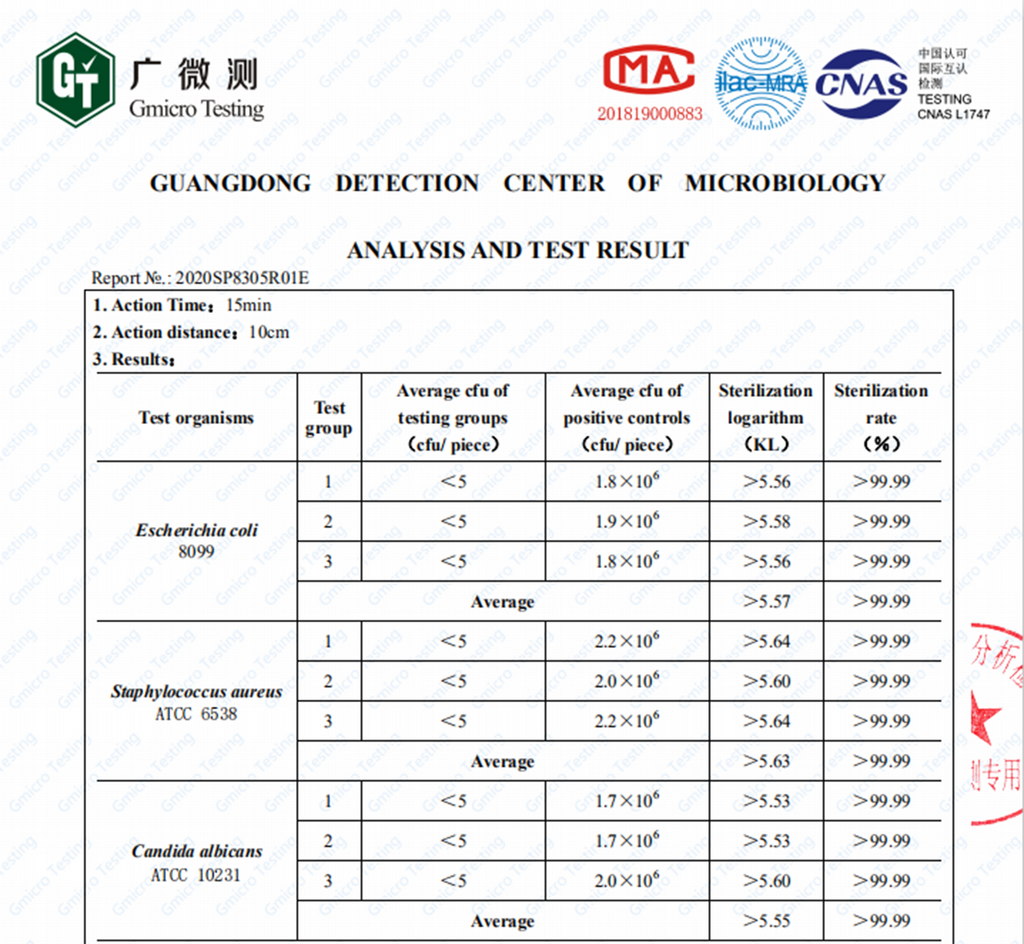 【 Warm Tips 】When this bulb lit, will immediately have a special quartz smell, which comes from burnt harmful smalls by the UVC ray, just like in the summer sun, it means it worked.
Warning notice:
1. Because the UV-C ray will hurt eyes and skin, so please don't look at the working bulb.
2. People/pet/plant can't be exposed to the UVC light, must left room when lamp work.
【1 YEAR WARRANTY 】Committed to providing the best service, if you have any question, please contact Customer Support, we will reply within 24 hours(excluding Sunday and holiday).
Great bulb
Great price and fast service. It was here I no time!
Appreciate the quick delivery time
Worked For me
I use this in a special box (Home Depot large moving box lined on all sides with aluminum foil) to periodically disinfect shoe bottoms, phones, respirators and anything else that might have come in contact with Covid-19. I bought a 2nd one and mounted it in a lamp socket to disinfect whole rooms of the house. Be sure to get the ozone-free bulb. The ozone producing bulb is better for deep-down disinfection since the ozone gas will penetrate places the light from the bulb cannot reach but you have to do a through venting of the area afterwards since ozone will harm you. As the instructions say, never look at the bulb or expose your skin to the light
A good UV-C bulb
If your looking for a UV-c disinfection bulb this one will do the job. There are two kinds: one generates ozone and one does not. This one does not. Ozone is great for some applications since it's a gas that seeps into places the UV light cannot reach. But it requires a period of "airing out" when you cannot be in the room so choose carefully.