In stock(US)
【 Passed by EPA】EPA EST NO. : 96998-CHN-1
【Strong UV intensity】1302 μW/cm2 at the distance of 10inch, as shown on the picture.
【 UVC with no Ozone smell 】253.7nm UV light, can remove bad smells, kill bacteria, use for the disinfection of bed, sofa, carpet, basement, storage room, etc. no longer feel inexplicably itchy.

【 UV protective glasses 】The package includes a pair of UV protection glasses, use it can protect eyes from UV-C rays.
【 200 ft Remote Timer Control 】15/ 30/ 60minutes, different timer modes designed for different needs. Wide range Powerful Remote Control, can received the signal from the behind wall, turn it on or off.
【FCC Certified】Click here to find the FCC certificate.
【UL Test Report】Click here to find the UL test report.

【 99.99% sterilization rate 】Click here to find test report.



【 Amazing 600 sq. ft. Application Coverage】Suitable for home, hotels, shops, clinics, schools, salon.


【 Item Packing Dimensions 】11.7 x 7.8 x 4 inches(LxWxH)
Package including:
36W UVC&Ozone-free bulb *1

Sturdy lamp base with 5 ft cord *1

Remote controller *1


UV protective glasses *1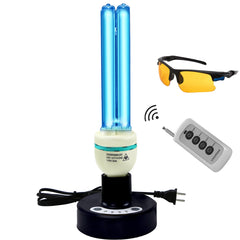 Cautions when using this UV-C lamp:
U-V ray will hurt eyes and skin, please don't look at the working bulb.

People/pets/plants must leave the room when the lamp is working.

Liquids such as perfumes and wines should be kept away from the UV light, as the powerful U-V rays may cause chemical metamorphism.

Don't put brightly colored clothes toys under the light, as the strong oxidation of U-V ray may cause slight fading.

If there are unmovable fish tanks or plants/painting in the room, you can cover them with a non-transparent newspaper or cloth to avoid the UVC rays.

Keep the lamp out of the reach of children.
【1 YEAR WARRANTY 】Committed to providing the best service, if you have any question, please contact Customer Support, we will reply within 24 hours(excluding Sunday and holiday).
Performs as Advertised
I wanted a shortwave ultraviolet light source powered by 110 Volt house current to display fluorescent materials, and this Coospider lamp seemed well suited for the task. As a retired scientist, I have instruments to measure ultraviolet light, and so I can confirm that this lamp does indeed produce a UV-C intensity of 1300 microwatts/sq.cm. at a distance of ten inches as advertised. At a distance of one meter the intensity is 120 microwatts/sq.cm. I also have an ozone detector, and so I can confirm that this 36 Watt lamp produces no ozone.
Both Units are Very Good and Easy to use, the Remote Makes it Easier to Use. I Probably will Buy Another Two.
UV Germicidal Light Sterilization rate 99.99% Remote Control Timer 15/30/60 minutes 120V 36W Table Lamp,for Remove Musty (Ozone-free CTUV-36)
works great!
I do find the timer to be a little tricky but over all very satisfied.
To early to tell (2 weeks). Order showed up on time without any problems.
Smells like burnt dust at first. Then it smelled very clean like when you are away from the city after a spring rain. Very fresh and clean. Now lets see how long they last.